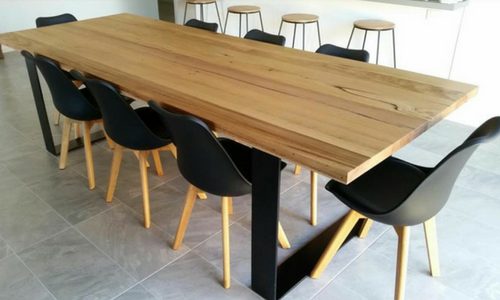 Who would have thought that salvaging old timber could provide such a great product that is eco-friendly and possess features more beautiful than new timber.  Some Savvy entrepreneurs certainly thought so and now the product has a rapidly growing fan club.
So what is Recycled timber?
Recycled timber is wood that has been taking from old wooden structures that have been demolished like warehouses, factories, barns etc.  The timber is purchased by a timber yard who will remove the nails and mill them to a particular size essentially creating a new product.  The terms Recycled, Reclaimed, Upcycled etc get bounded around a lot and although Semantics I would have to say that there are slight differences.
Reclaimed timber simply put is things like Railway sleepers where they have just been removed from a location and are sold as is, where as Upcycled timber is using a piece of timber for something other than it was originally intended.
What are the Benefits?
Apart from being Eco friendly it contains features that you would not get with non-recycled.  For example old nail holes which appear black due to a reaction between the timber and the nail during its life and also a low moisture content making it perfect for things like furniture as it is less prone to warping and splitting.  When purchasing Recycled timber the timber yard may know a bit about the history of it so make a point of asking where it has come from.  It certainly adds to the wow factor when looking at your finished product as you know each piece is unique and may have some amazing history.
What are the potential draw backs?
As Recycled timber is old it can have non-uniform appearance in colour, scars and indentations.  Some people even view the nail holes as a draw back, but for me all these negatives are positives. Recycled timber has gone through a fairly labour intensive process to be in the form you see on the rack so it can be slightly more expensive.
Where can you buy Recycled timber?
Unfortunately Recycled timber is not available at your local general hardware store.  Dedicated timber hardware stores may stock it.  If you live on the surf coast or near Geelong then you might have heard of Timberzoo, based in Moolap. http://www.timberzoo.com.au.They cater for a wide range of Recycled and Kiln dried timbers.  Check them out or give them a call as they are extremely helpful.
Inspiration?
You may be asking what can I make from Recycled timber or after some inspiration for your next home project, well check out and follow our Website, Facebook and Instagram pages and keep up to date with the latest work. Below is just a few examples of our work all using Recycled timber.
If you found this blog interesting please visit, like or follow our social media pages.
Blog Legal Disclaimer
All data and information provided in this blog is for informational purposes only. www.fixuplooksharp.com.au makes no representations as to accuracy, completeness, currentness, suitability, or validity of any information on this site and will not be liable for any errors, omissions, or delays in this information or any losses, injuries, or damages arising from its display or use. All information is provided on an as-is basis.