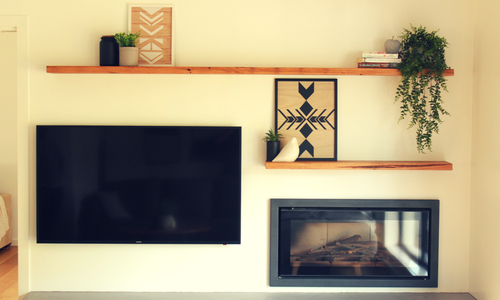 The main reason I like to use floating shelves is that there are no visible brackets.  I get a lot of inquiries about how to install floating shelves. There are a various methods of installing a floating shelf, but ones that are available in your local hardware store are very straight forward to install, if you're a bit handy with some power tools.  They come with a metal mounting bracket, which slots into the back of the shelf.  The mounting bracket is attached to the wall, either screwed directly into the stud frame (great if there is a stud in the right place) or with Gyprock Anchors.  These shelves have a fairly limited load rating so check with the hardware store about the rating of the shelf and the wall fasteners.
These shelves, although making life easy for the DIYer, they are made of chipboard with a veneer and are not solid timber.
I like to use solid timber shelving, which in itself weighs a fair amount depending on the thickness and width of shelf.  I especially like using Recycled Timber as not only does it add that warmth factor it provides a good sense of history to the shelf such as old nail holes; where it was once fastened in an old building.  Check out my blog on why you need Recycled Timber in your life
https://www.fixuplooksharp.com.au/need-recycled-timber-life/
Solid timber does present a few more challenges to Install as the hollow mounting commonly found in 'Off the Shelf' (excuse the pun) shelves is not present. So how do I mount these shelves?  The simple answer is Metal Wall Bars.
The wall bars are available off the net, but I have not, as of yet, seen them at any local hardware store.  The wall bars are inserted into a pre-drilled hole in the stud frame and tightened.   Once all wall bars have been inserted level across all studs, holes need to be drilled in the back of the solid shelf to align with the bars. The shelf will then slide onto the bars.
Overall Floating shelves do look great and are quite safe, when they are installed properly.  Please get in touch if you would like any advice or would like them installed for you.  Check out other examples of Floating Shelves I have installed:
www.fixuplooksharp.com.au/portfolios
"Your Local, Trusted & Reliable Handyman"
If you found this blog interesting please visit, like or follow our social media pages.
Blog Legal Disclaimer
All data and information provided in this blog is for informational purposes only. www.fixuplooksharp.com.au makes no representations as to accuracy, completeness, currentness, suitability, or validity of any information on this site and will not be liable for any errors, omissions, or delays in this information or any losses, injuries, or damages arising from its display or use. All information is provided on an as-is basis.